No Wine-ing DevSecOps Cocktail Party 2018
Time: 4:30 PM
Location: Jillians @ The Metreon 175 4th St. CA 94103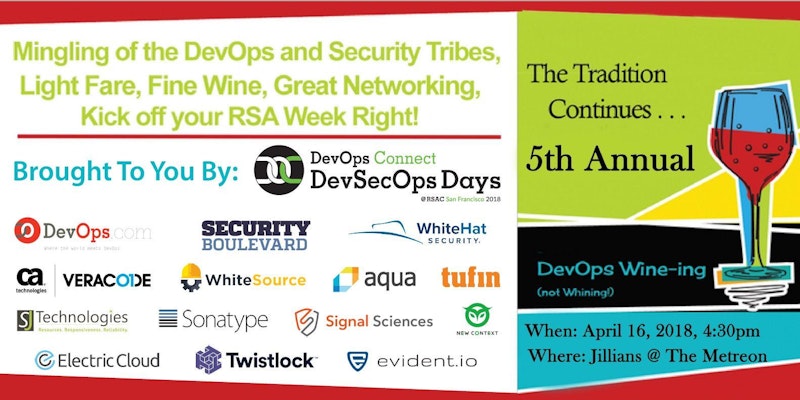 RSAC 2018 Opening Night Reception
Time: 5:00 – 7:00 PM
Location: RSA Expo Halls
Grab a drink and chat with the sponsors and exhibitors during RSA's opening reception.
Time: 5:00 – 8:30 pm
Location: TBD
Time: 6:30 – 10:00 PM
Location: 130 Townsend St, San Francisco, CA 9410
On Monday, April 16, 2018, W2 Communications is bringing CYBERTACOS™ back to San Francisco!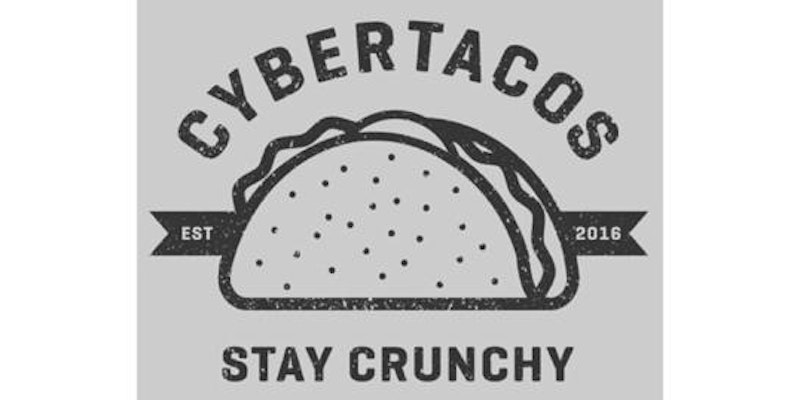 ​Register today and join us for networking, food and drinks, along with our "Meet the Press" panel series. From 7:15-8:00 p.m. PT hear from influential security reporters who will share what they cover, how they choose what to cover and answer any burning questions you may have. Following the panel, join us for an open networking event that will begin at 8:00 p.m.PT.
Time: 6:30 – 8:30 PM
Location: Temple Club
540 Howard St.
San Francisco, Ca
Register now to join GuidePoint, Anomali, Contrast Security, Check Point, CrowdStrike, LockPath, Mimecast, RedLock, RedSeal, Risk Based Security,  Splunk, and Venafi for our Security Social Hour at RSA 2018!
Cocktails and All That Jazz......
Time: 7:00 – 10:00 pm
Location: Local Edition, 691 Market Street
Core Security, Kudelski Security, and LogRhythm have partnered  to bring you a party like none other. Just think – music, magic, cocktails and all that jazz.
This is the one party you do not want to miss!
Flashpoint Ignite Featuring Dual Core
Time: 7:00 – 10:00 PM
Location: Jillian's at Metreon
175 4th St
San Francisco, CA 94103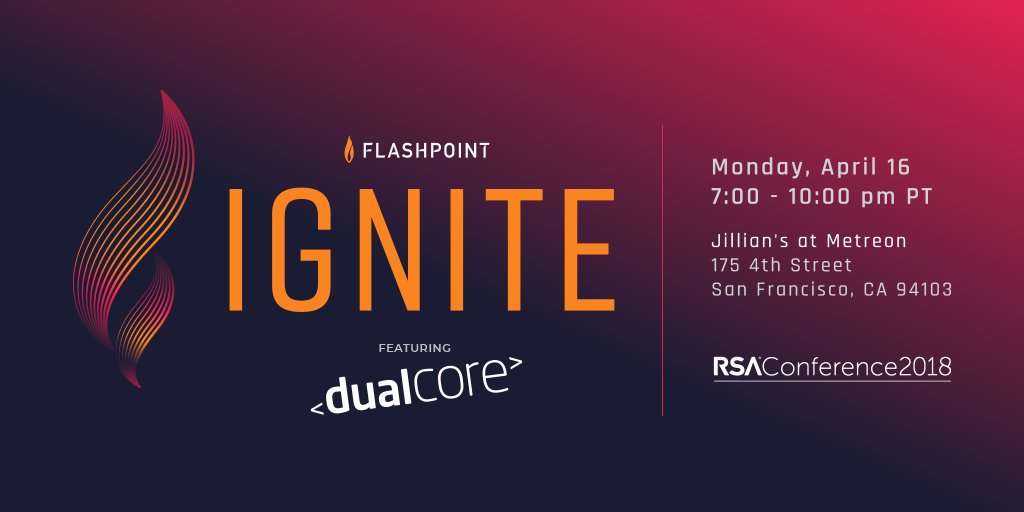 Kick off RSA Conference week right with drinks, snacks, and music by DJ FuzzyNop with a headline performance by Dual Core.
Internationally renowned for nerdcore and rapping about tech, modern life, and hacker culture, Dual Core will perform at 8:30 p.m. in Jillian's main room. Join us for a night of mixing, mingling and meeting up with your security industry peers.
Sumo Logic's Guide to the GDPR Galaxy
Time: 7:30 – 9:30 PM
Location: 111 Minna Gallery
111 Minna Street
San Francisco, CA 94105
GDPR is currently one of the hottest topics in IT security around the globe…heck across the universe! Many companies are thinking, "are we GDPR prepared?", "What do all of these regulations mean?", "What's a Data Privacy Office (DPO) and why do I need one?"
Join Sumo Logic and our lineup of security experts including VP of Security and Compliance, George Gerchow and Data Protection Officer, Jen Brown for Flash Q&As and explore the GDPR universe, map your journey and get tips to prepare for liftoff in time for the May 2018 deadline. We will have spirits tasting, appetizers and an expert security lounge, sneak peeks of Sumo Logic's new security analytics solution, and GDPR survival kits to take home.
Rockin' Out Live @ RSA 2018
Time: 8:30 PM – 12:00 AM
Location: Mezzanine, 444 Jessie Street, San Francisco CA 94103
Join vArmour, MailControl, Work-Bench, Hyas, Templarbit, and 205 Capital at the RSA Conference in San Francisco for Rockin' Out Live 2018!
We're excited to bring you two of the most talented up-and-coming rock bands from the UK – Airways and Saint PHNX – to make this year's RSA Conference kickoff show the biggest one yet!
This hosted-bar, live music performance is brought to you by a collection of the hottest security startups at RSA. Rock out with fellow industry executives and get up close with the band members at this year's most exciting RSA event.
Please select a valid form