Foreshadowing
It was a snowy weekend before RSA, and even more snow was expected on the East Coast. I took the early flight to San Francisco on Sunday to be there early….just in case.
Hours later, I had a call with Dean Sysman, our CEO and Co-Founder who had been sitting in a plane on the runway for 4 hours before his flight was canceled. Panic ensued.
Axonius had been tremendously lucky to be selected as one of 10 finalists in the RSAC Innovation Sandbox Competition. 10 cybersecurity startups are selected to pitch their solution in 3 minutes on stage to a panel of 5 experts. Two are chosen as finalists. One wins. Like many events, much of the real work happens behind the scenes: multiple changes to the 10-slide-deck, rehearsals in front of mirrors, practice runs with event organizers.
But now there was a hitch: Dean was able to re-book for Monday morning, but wasn't going to make it to rehearsal at 9 am, wouldn't be there for the judges' demos at 11, and it would be a stretch for him to land, get his badge, and make it there just in time to present without rehearsing.
"You know what? You should just do it," he said completely nonchalantly.
Sure. Why not?
Acceptance
Unlike some of the other technologies presented by finalists, asset management is pretty far from rocket science. It's a problem everyone seems to have, and it's been around for decades. Additionally, the Axonius approach is simple:
Connect to the security and management solutions that customers already use.
Collect and correlate information about assets, users, and security solution coverage.
Show how each asset relates to the overall security policy.
Let customers take action — automated or otherwise
With a widespread problem and an easy solution, I think anyone could have told the story. But I was there.
Delivery
Here's the 3-minute pitch: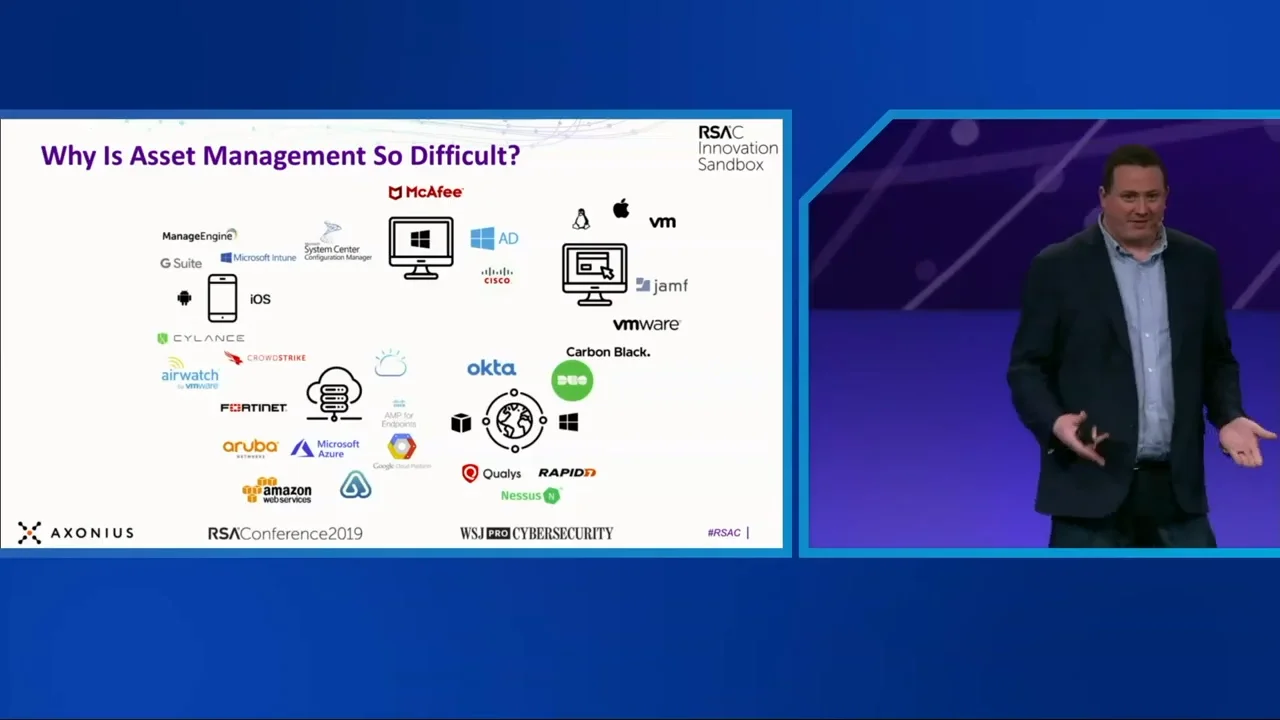 When the judges reconvened, what follows was a complete blur: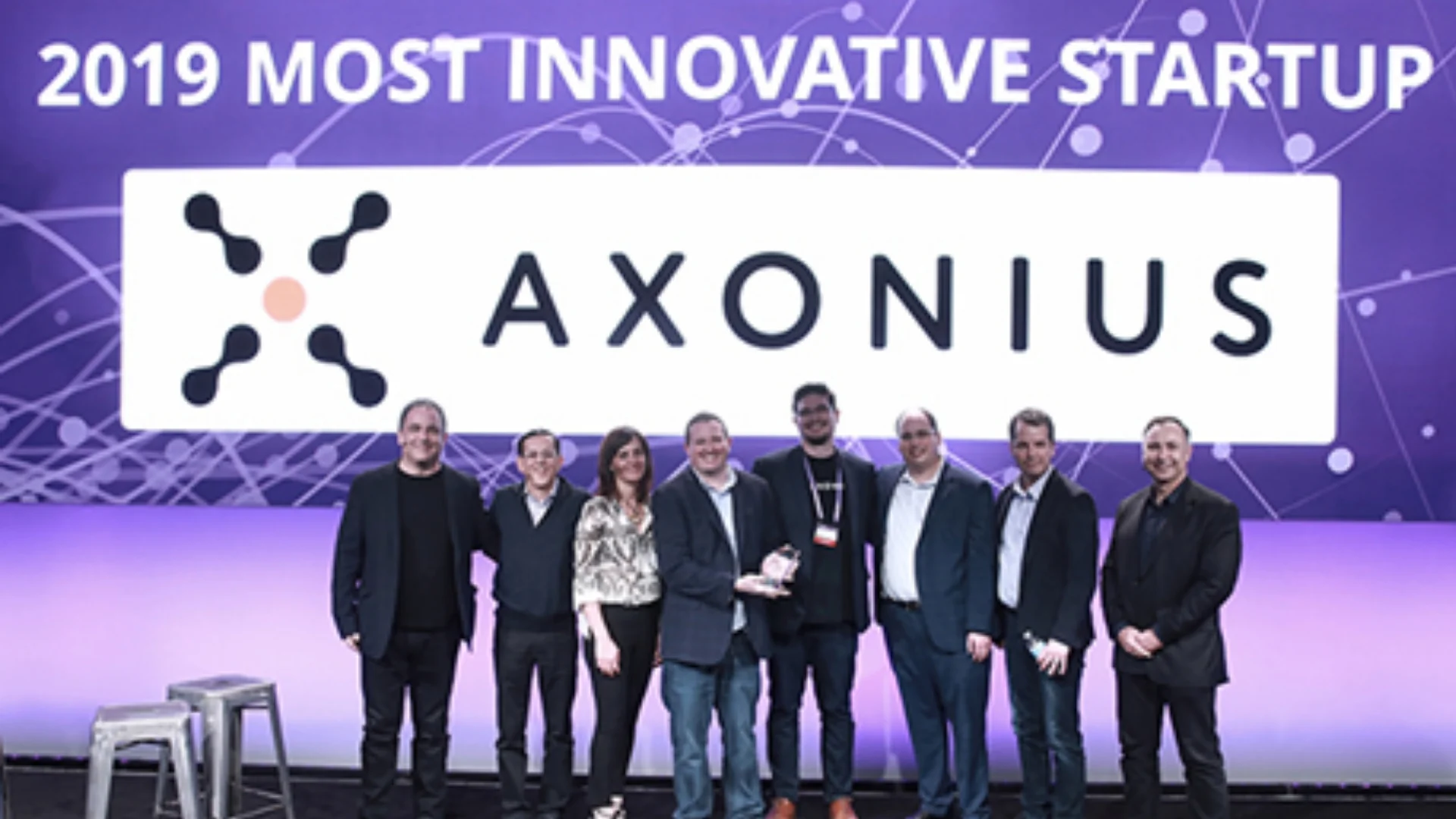 From Patrick Heim, Operating Partner and CISO, ClearSky:
I've had the distinct pleasure of being the CISO for an organization with over 200,000 individuals in it; a massive environment, and I've lived the pain of never having a straight answer around assets. Never knowing how many servers there are, virtual machines, endpoints devices, what's covered by what scope-wise. And it's one of these fundamental problems in security that for some reason is really obvious, and many of us have lived with this pain, but nobody's really solved yet.

Axonius saw this obvious market opportunity and they solved it, and it's crazy important to solve. And when we think about prioritizing security initiatives as CISOs – everything has to be prioritized since there's an infinite attack surface to fix – but more and more I think CISOs are looking at back to basics. What are the fundamentals we have to fix from an infrastructure perspective first before we worry about ninjas facing us with APTs and zero-days? There are some basic things you have to solve first.

So Axonius resonated very strongly with me be because I can put a check in a box around a problem that has been around for 20 or 30 years and say 'this has the potential for solving it, and it leverages my existing security infrastructure investments by pulling it all together versus deploying more agents.'
Reviews
What followed was incredible coverage of the importance of the asset management challenge and how Axonius is solving it. A few examples:
Momentum
Now the work begins. Winning awards like the innovation sandbox and the SC Award for Rookie Security Company of the Year is amazing, but the most amazing thing is taking advantage of the attention to show organizations that Axonius does exactly what we claim. If you haven't yet, sign up here and we'll set up a time for a custom demo.
Appreciation
Finally, we can't thank the judges for deciding that an "unsexy" problem like asset management is worth solving now, and that Axonius is innovative enough to both solve the problem and deserve the title of Most Innovative Startup of 2019. It's truly incredible.
Thanks, too to the RSAC Innovation Sandbox team that put on such a professional and polished event. I walked in not expecting to present, and was made to feel completely comfortable and knew exactly what to expect.
Lastly, thanking the other finalists may sound trite or cliche, but I mean it: After watching the presenters before me, I may have quickly scanned for the exits and considered an escape plan. Several judges told me that it was a very competitive class and that it was as close as they could remember. So be sure to check out Arkose Labs, CAPSULE8, CLOUDKNOX, disrupt:Ops, Duality Technologies, eclypsium, Salt, ShiftLeft, and wirewheel.